"In a world of sunsets,
BE the NORTHERN LIGHTS"

CANADA'S GREENEST
ECO RESORT
AURORA LODGE HOTEL (Aurora)
Yukon Hot Springs Resort
Whitehorse, Yukon

Formerly Takhini Hot Springs Resort, 2020-23 (In Planning & Design)

"In a world of sunsets,
BE the NORTHERN LIGHTS."


The Aurora Lodge at Yukon Hot Springs Resort has been designed as a site-responsive, energy-efficient green building. Yukon Hot Springs Resort is committed to enhancing guest experiences while ensuring all development is ecologically sustainable in this wilderness setting. The Aurora Lodge provides much-needed guest room accommodation and guest services for the Yulkon Hot Springs Destination Resort, and serves as a social hub for Lodge guests and the nearby community. The Aurora Lodge Hotel building program consists of 80 key guest rooms comprised of double-queen, king and micro rooms in two three-story wings. In conjunction with the guest-room wings is a centrally located lobby and associated guest hotel services, including restaurant, lounge, wedding/conference banquet facilities, media/library, retail gallery and a Northern Lights viewing deck.
The Aurora Lodge Hotel has been sited to take advantage of views to Takhini Pond, and the local mountain ranges. It has all-weather protected walkway connections to the Lodge Guest Services facility (Pool, Spa, Fitness Centre & Cafe), and to the Eclipse Nordic Hot Springs Centre and Onsen Hot Pools.

THE AURURO LODGE Hotel at YUKON HOT SPRINGS RESORT
The Lodge accommodates several distinct and interrelated hotel functions, which include:
Hotel Guest Services Main Floor
• Open Fireplace Lobby, Guest Reception
• Breakfast Cafe / Lounge and Bar
• Retail, Administration Offices
• Support Services including:
washrooms, janitorial, staff room,
utility/mech services, laundry, storage
Hotel Guest Services Upper Floor
• Restaurant / Dining Room
• Lounge, Bar, Kitchen
• Banquet / Conference Room
• Support Services including:
washrooms, janitorial, storage, utility, house keeping, elevator
Guest Rooms Wings 1 & 2 (80 Guest Rooms)
• Db Queen, King, King Suite, Micro Rooms
• Support Services including:
washrooms, janitorial, storage, house keeping,
utility/mech services
Guest room accommodation is provided in two three-story wings offering a mix of double queen, king, king suite, and micro rooms. Rooms face towards Takhini Pond or northeast towards the Northern Lights. In addition, there are barrier-free guest rooms located on every guest wing floor. Lodge guest amenities are centrally located. On the main floor they include a fireplace lounge visually connected to the reception desk, and a cafe-lounge facing Takhini Pond. The cafe/lounge will serve continental breakfasts along with bar service in the evenings.

A gift shop gallery, displaying and selling local artworks, and a media / library are adjacent the main lobby. A grand staircase and elevator serves the central area. There are additional elevators serving each of the two guest wings. The Lodge administration offices, a staff room, and other hotel support facilities are conveniently located near the reception desk.

Located on the second floor is a 120+ seat dining room, catering to Lodge guests and the local community. The dining area overlooks the ever serene Takhini Pond, and has a large deck for summer outdoor seating. Guests will have the opportunity to taste authentic Northern cuisine served here, as well as at the main floor cafe-lounge.

The upper floor also features a banquet / conference hall—accommodating a variety of seating arrangments from 110 banquet guests to 175 auditorium-style seating for various types of gatherings—from weddings to confer- ences. It can be opened to the dining room for additional seating. From this level is also access to a roof top observation warming area (the Aurora Room), and its outdoor roof deck to view the breathtaking Northern Lights.

Connected to the main Lodge by a protected walkway is a Lodge Guest Services Centre. The main floor of the Centre features an indoor/outdoor pool, and a fitness center complete with change rooms that also service the pool and fitness centre. On the upper level of the Guest Services Centre (connected by a weather-protected breezeway to the Eclipse Nordic Hot Pools Complex), is a full-service spa, bistro cafe and tours office.
SUSTAINABLE ENVIRONMENTAL DESIGN
The Yukon Hot Springs Resort is Canada's most energy-efficient, sustainable green resort. The Guest Centre's design is based on ECOlibirum principles. It employs true geo-thermal heating and other renewable energy efficient design strategies including PVC collectors, grey water separation and water conservation, heat recovery (HRV), recyling, and supergreen envelopes with R100 roof insulation, R48-60 double walls, R40 slab and perimeter insulation, and triple and quadruple high performance windows. The resorts sustainble woodlot feeds a Garn high efficient wood burner, providing supplemental and emergency backup heating.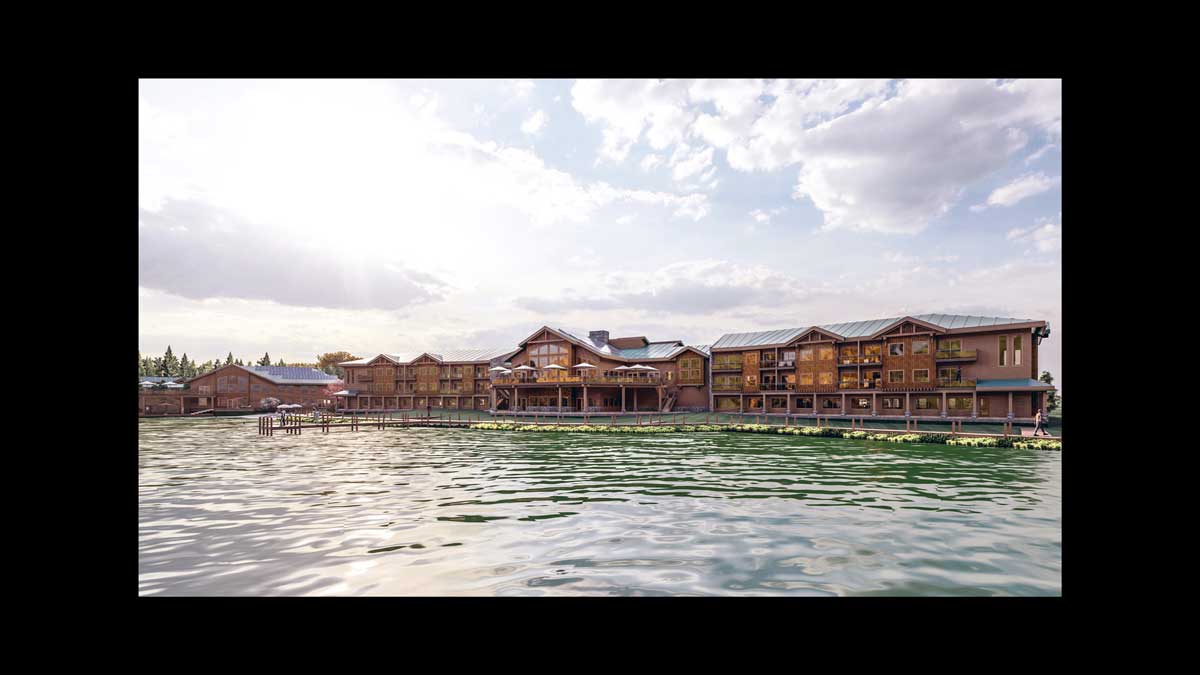 Yukon Hot Springs Resort Aurora Lodge Hotel (top)
(from Takhini Pond)
Yukon Hot Springs Resort Guest Services Centre (bottom)
(Eclipse Nordic Hot Springs and Onsen Hot Pools in background)