"The art of HEALING
comes from nature,
not the physician."
~ Paracelsus

SUSTAINABLE
ENVIRONMENTAL DESIGN
CANADA'S GREENEST
ECO RESORT
INTERPRETIVE CENTRE (Healing Water)
Yukon Hot Springs Resort, Whitehorse

(Formerly Takhini Hot Springs Resort)

"The art of HEALING comes from nature,
not from the physician."
~ Paracelsus



The 10,000+ year old hot springs are the very foundation of the Yukon Hot Springs eco resort (formerly Takhini Hot Springs Resort) and integral to its existence. For millennia, people worldwide have used hot springs for their restorative, natural healing and mystical powers. Yukon's Takhini Hot Springs therapeutic value was long recognized by local First Nations. Over the last century, the warm waters have soothed many Yukoners. In recent years, the Yukon Hot Springs Resort has become a popular venue for international and local visitors alike—to bask in the hot pools, and view the awe-inspiring Northern Lights in winter or experience the magic of the Midnight Sun during the summer months.

The Resort's newly developed Hot Pools and Eclipse Nordic Hot Springs Guest Centre, and the proposed Interpretive Centre recognize (in both design and services) that human health is interconnected with environmental health. The Interpretive Centre will be located at the springs source, a natural crater-like landform. The new facility will be the focus of educational and interpretive programs for the entire eco based community.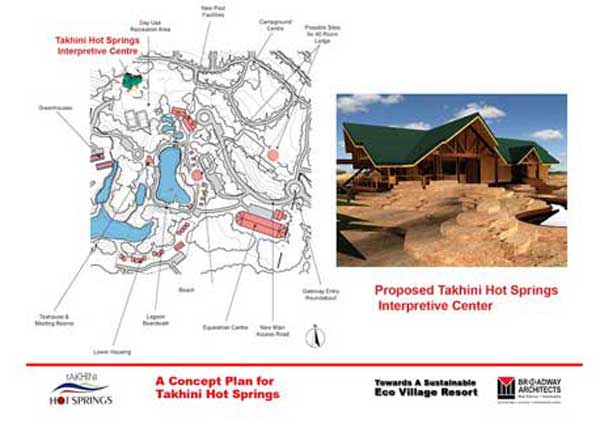 The use of clean renewable energy sources, along with sustainable building practices are promoted in the Takhini Hot Springs Interpretive Centre as a benchmark for all future resort developments. The resort is blessed with having the hot springs for its recreational and therapeutic value and also as a geothermal source of heating and cooling buildings. The building will be entirely energy self-sufficient (net zero energy use). The geoexchange systems employed will be highlighted as a key component of the overall interpretive program - to help promote and establish the Takhini Hot Spring Resort as Canada's greenest Eco Village Resort.
The Interpretive Centre will be the focus of educational and interpretive programs for the entire Resort Village. The centre will include the well house utility functions and provide display information on the geology of the hot springs, unique ecosystem of the area, and local cultural history. As well, the sustainable design features employed in the building (including geoexchange heating and cooling systems) will be on display.
The Interpretive Centre is envisioned as a "bridge over hot water", floating over the earth, to minimize on-site impacts. It symbolically acts as a link to the past with displays interpreting the geology and history of the area. A pair of large timber trusses, reminiscent of historic wood trestle bridges, span the hot spring source and form the structural supporting system. The trusses in turn rest gently on stilts suspending the building over the natural cater below.
HOT SPRINGS SOURCE
The hot springs source has been rehabilitated and the area protected. An enclosed gazebo that allows for public viewing has been placed over the source pool.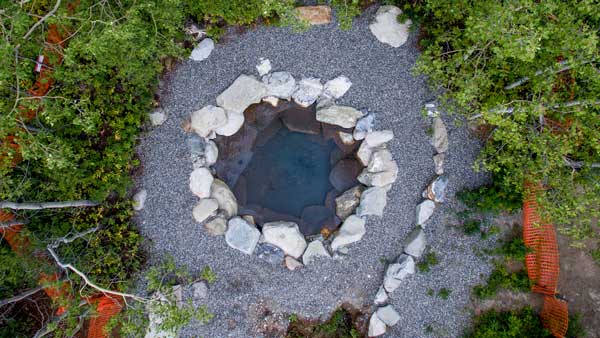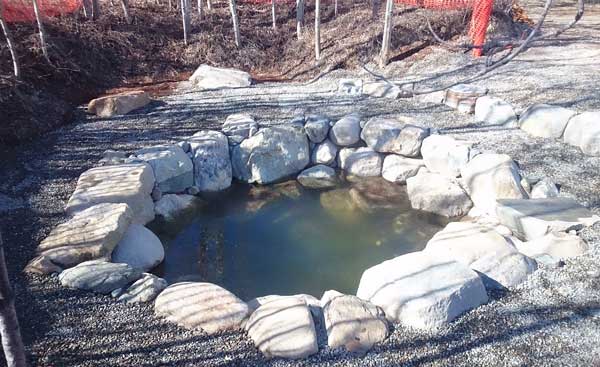 Hot Springs Source Pool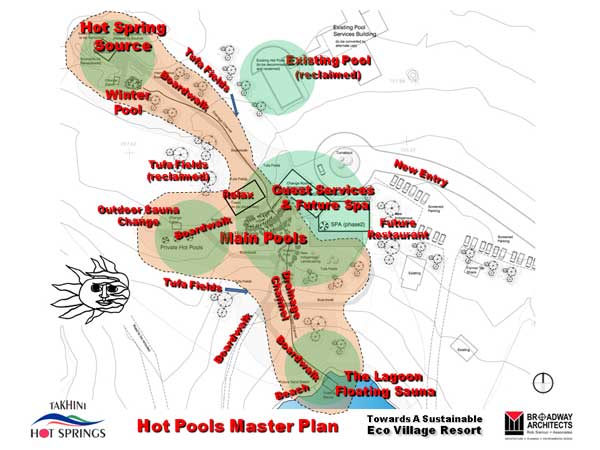 Onsen Hot Pools Master Plan Update (2015)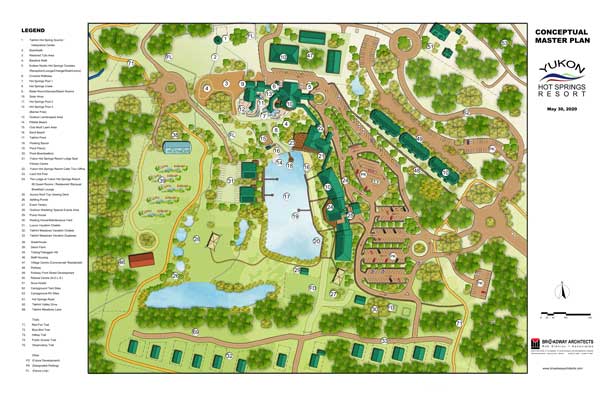 Yukon Hot Springs Resort Master Plan (updated May 2020)